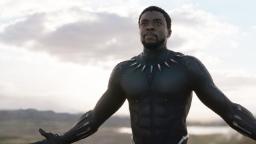 Boseman starred as the African king and super hero in the 2018 blockbuster Marvel film "Black Panther" and the casting could not have been more on point.
Now he is gone and our collective hearts are broken.
With the passing of Boseman there is an added layer of grief for Black America.
It feels like one more blow in the midst of protests over the shooting of Black people by police — a fight that has been politicized, but for Black people feels as simple as a recognition of humanity.
Humanity is what Boseman specialized in.
He made a career of playing real life Black historical figures including Jackie Robinson, James Brown and Thurgood Marshall. He disappeared into those roles.
But as T'Challa/Black Panther, whom he first played in the 2016 film "Captain America: Civil War," it felt as if Boseman had found his destiny.
He was grace personified as the leader of Wakanda — a fictitious African nation which became a celluloid Black utopia.
"Black Panther" was a portrayal of people of the African diaspora that we don't often see.
For in Wakanda, technology and science are developed by Africans, for African people's battles were won and lost using not just brawn, but also brains.
Boseman was aware of the cultural impact of such a film coming at a time when Black people felt mired in the seemingly never ending fight for equality.
"I think there's a thirst for these images,"
he told "Today"
when "Black Panther" was released. "There's a thirst for a Black superhero."
He also knew the pride that African Americans could and should take in being descendents from the continent.
"Having studied at Howard [a historically black university in Washington, DC] and having various different experiences within our culture, I knew it was an opportunity to pull from real things, real achievements, real African culture and place it in this movie to make it real." Boseman told CNN at the time. "If anybody believes that Africa didn't have an empire, didn't have architecture, didn't have art, didn't have science, you see it in this movie."
As T'Challa, Boseman embodied that pride, both on and off screen. He showed up for us and we in turn showed up for him.
Black people flocked to the film, swiftly carrying it to box office record-breaking success.
Moviegoers dressed in Afro-centric outfits to attend screenings and pay homage to the sumptuous costumes designed by Ruth E. Carter for the film (she made history as the first Black person to win an Academy Award for costume design).
Little girls dressed as members of Dora Milaje, the all-female Wakandan elite special forces unit.
Think pieces were written about the films themes of nationalism, family and the importance of STEM (science, technology, engineering, and mathematics) in the Black community.
It became a cultural touchstone with its majority Black cast and place as one of the shining jewels in the box office crown of Marvel superhero movie fandom.
In a Twitter statement released on his account announcing Boseman's death it was noted that his "Black Panther" role was the "honor of his career."
The public was unaware that Boseman was displaying some heroism of his own as he had been diagnosed with stage III colon cancer in 2016 and he still chose to continue the physically demanding role in not only "Black Panther," but also playing the role in "Avengers: Infinity War" and "Avengers: Endgame."
In doing so he left us with a legacy that extends beyond the big screen.
The superstar not only became a part of Black history by helping to show Hollywood how profitable representation can be, but we learned he left this world on a day that is intrinsically meaningful to the Black community.
Friday was Jackie Robinson Day which celebrates the man he portrayed in "42" who broke the color barrier in major league baseball. It was also the anniversary of the famed March on Washington for civil rights.
Sadly it will now also be forever known as the day we lost our superhero and our king.
Wakanda, forever.