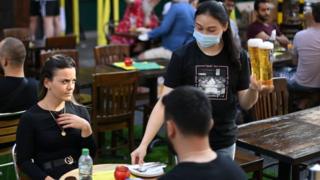 The UK's coronavirus alert level should be raised from level 3 to 4, meaning transmission is "high or rising exponentially", its chief medical officers have said.
It comes after the government's scientific adviser warned there could be 50,000 new coronavirus cases a day by mid-October without further action.
The PM will make a statement in the Commons on Tuesday.
On Monday, a further 4,368 daily cases were reported in the UK, up from 3,899.
A further 11 people have also died within 28 days of a positive test, although these figures tend to be lower over the weekend and on Mondays due to reporting delays.
Speaking at Downing Street alongside chief medical adviser, Prof Chris Whitty, Sir Patrick Vallance said: "At the moment we think the epidemic is doubling roughly every seven days.
"If, and that's quite a big if, but if that continues unabated, and this grows, doubling every seven days… if that continued you would end up with something like 50,000 cases in the middle of October per day.
"Fifty-thousand cases per day would be expected to lead a month later, so the middle of November say, to 200-plus deaths per day.
"The challenge, therefore, is to make sure the doubling time does not stay at seven days.
"That requires speed, it requires action and it requires enough in order to be able to bring that down."
It comes as the PM prepares to chair a Cobra emergency meeting on Tuesday morning.