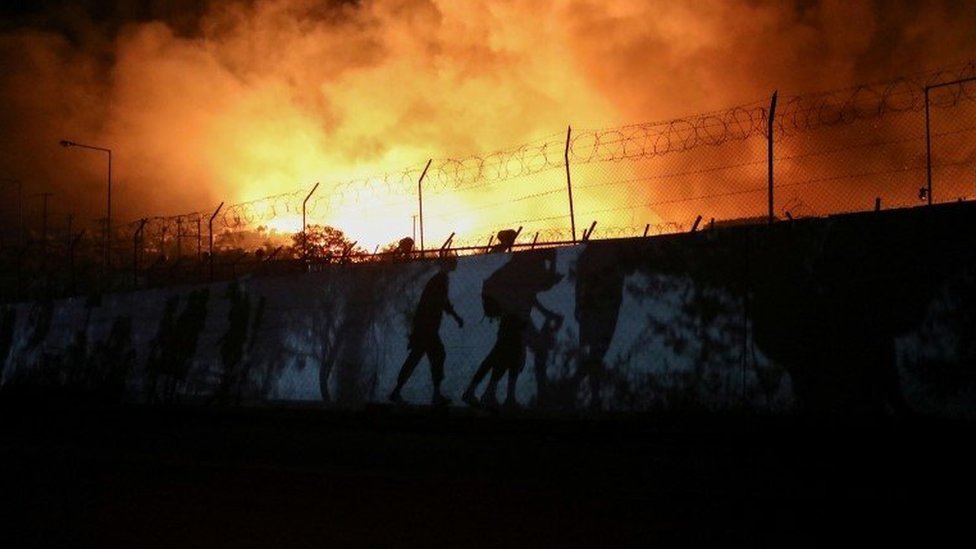 Fire has broken out at Greece's largest migrant camp, the overcrowded Moria facility on the island of Lesbos.
Migrants were being evacuated. There were no immediate reports of casualties as some 25 firefighters with 10 engines battled the flames.
One eyewitness said the main compound, as well as makeshift shelters in a nearby olive grove, were ablaze.
Moria is home to nearly 13,000 people, more than four times the number it can officially hold.
The camp was placed under quarantine last week after a migrant tested positive for the coronavirus. There are now 35 confirmed cases.
Greek news agency ANA said the fires had broken out after some of the 35 had refused to move into isolation with their families, but this is unconfirmed.
An AFP photographer said migrants fleeing the fire were being blocked by police vehicles from heading to the port town of Mytilene.
The refugee support group Stand by Me Lesvos said it had heard reports of some locals attacking and preventing migrants from passing through a nearby village.