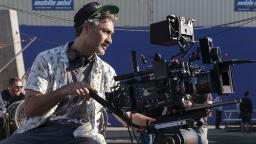 Two additional examples arrive this month: "Marvel's 616," a documentary series examining the marquee brand's comic-book roots, from fairly arcane angles; and "Inside Pixar," a collection of shorts devoted to the inner workings of the Disney unit behind such hit movies as "Toy Story" and "Cars."
These titles join a number of other shows that celebrate the creative process and its behind-the-scenes architects, including the multi-part docuseries "The Imagineering Story," a deep dive into the history and hard work behind the Disney parks and all those fantastic attractions; and "Disney Gallery: The Mandalorian," an eight-part series breaking down the various artistic contributors to the streaming service's
signature original series
.
For Disney, whose service has quickly amassed
nearly 74 million subscribers
, the strategy reflects the pressure to keep people coming back for new material. But it also reinforces a sense that its primary brands have so much equity built up with their respective fan bases that people will tune in for even these lesser (and less expensive) efforts connected to those names.
In the case of "Marvel's 616" (the title is a reference to the original Marvel comic-book universe), that includes a detailed look at what's known as the "Marvel method" of creating comic books — a throwback to the days of Stan Lee and Jack Kirby — and what's basically a comedic episode in which comedian/actor Paul Scheer wades through the Marvel archives, dredging up some of its more obscure titles for a possible revival.
It's fun, but a far cry from the whiz-bang action most prominently associated with the Marvel name. And while much of the Disney+ library appeals to kids, these programs target a more
sophisticated audience, one that doesn't merely want to be entertained by Disney fare but is interested in seeing the tricks of how the magic gets made.
Of course, there's a certain tone to all of these shows, which makes working for the studio that gave us the Magic Kingdom look like, well, the happiest place on Earth. The net result serves as a thinly veiled commercial for all things Disney, which likes to present everyone employed under its shingle as a "cast member" in this grand enterprise.
For those interested in the process, this programming is definitely interesting, even if much if it feels as calculated and massaged as a corporate video or political ad in adding luster to the studio's image.
Then again, it shouldn't really come at a surprise that Disney's peek at the backstage aspects of the company still comes sprinkled with just a little fairy dust.
"Marvel's 616" premieres Nov. 20 on Disney+.